Essential Addons for Elementor Premium Plugin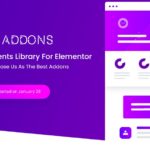 Essential Addons for Elementor Premium Plugin
Your dessin dreams come true with Essential Addons-If you could imagine, Essential Addons lets you create that with Elementor. You can customize every element Just the way you want. Each element comes with a bunch of options to control every possible thing. You can achieve nearly any design with your imagination.
Essential Addons brings you more creative elements for free besides what you get built-in with Elementor. Without any coding skills, it enables you to design stunning websites.
Description
Essential Addons for Elementor is the best widget library for Elementor.
In the Essential Addons for Elementor, you will get 70+ Premium Elements to enhance your Elementor Page building capacity. Add powers to your page builder using our easy-to-use & creative elements and make your next WordPress pages look prettier than ever before.
The plugin Download link will be sent to your Email ID within One Business Day.
NB: You will get the latest available version of the Plugin with us, which may not the latest release of the plugin.